Kinga Su

Fuse Animation. Bond

16:9
NFT animation
2020-2022
This artwork is part of the installation Fuse. Harmonic Interaction. The viewers actively participated in the project by changing signs into letters to find a word. In order to succeed, they needed to start a dialogue and collaborate with the other viewer.
A huge polarization of public opinion has been observed for a long time, and for the last few years, political views divide people who are very close to each other. In addition, there is a constant information noise that reaches us through the media and social networks, which us in information bubbles. There are mechanisms that I observe with concern also for myself – I have prejudices towards people with a different worldview and I don't even want to talk to them. With my project, I would like to inspire cooperation and dialogue.
I have created the typographic signs based on points. I imagined an elastic, black fabric that has been stretched on a mechanical system of moving elements. Some of them hold the fabric while others limit the movement.
Feel free to provide us with your details to inquire about the artwork.
More Artpieces by Kinga Su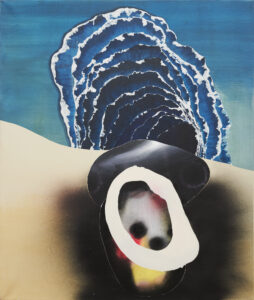 Carmen Belean
Dec. 19, 2023 – Jan. 3, 2024 The Cave: Unveiling Illusions; group show in East Broadway, New York; an art exhibition inspired by Plato's renown essay 'The Allegory of the Cave'
Read More »
Paintings
Diosa del Amor | Mariano Fernandez – ExoGallery, Stuttgart | Acrylic on canvas, 200x120cm
Read More »
Paintings
Paraiso (Paradise) by Mariano Fernandez – ExoGallery, Stuttgart | Acrylic on canvas, 200×120 cm
Read More »
Paintings
Mariano Fernandez Commercial Shit 90×60 cm Acrylic on IKEA picture, fluorescent
Read More »
Paintings
Mariano Fernandez La passion 88 x 44 cm Acrylic on canvas
Read More »
Paintings
Milena Lopez El mar y mis temores (The sea and my
Read More »
Paintings
Milena Lopez El Bosque (The woods) 80 x 60 cm Acrylic
Read More »