Kai Sieber
Decision or Dragonfly
80 x 100 cm &  80 x 33.5 cm

Acrylic on Canvas + NFT animation + Digital Stripe (Fine Art Print on Dibond)
2021-2022
Unique piece, print signed on the back, and listed with the NFT ID
I started this picture when I was faced with an important decision. I had a very difficult time with this decision.
I often start a picture and it develops almost by itself – the eyes see the next rope, the subconscious directs. In this case, my inability to make decisions carried over into the picture. No topic wanted to crystallize – in particular, I couldn't answer the question of abstract or (partially) representational. So, I painted over the picture several times until finally an abstract result with proportions, materials, textures, and contrasts prevailed that convinced me (I had also made the private decision in the meantime).
For me, the final image symbolizes this process of decision-making and at the same time associates seeing something very small, like under a microscope, in a form that is barely visible to the naked eye.
A year later, due to the latter association, I overlaid my own oversized photos of dragonflies digitally – and answered the question abstract – representational anew.
Feel free to provide us your details to inquire about the artwork.
Other Artworks by Kai Sieber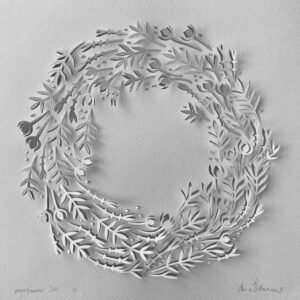 Alexandra JS
1 – 17 December, 2022. XmART – Christmas Group Exhibition
Read More »
Paintings
Diosa del Amor | Mariano Fernandez – ExoGallery, Stuttgart | Acrylic on canvas, 200x120cm
Read More »
Paintings
Paraiso (Paradise) by Mariano Fernandez – ExoGallery, Stuttgart | Acrylic on canvas, 200×120 cm
Read More »
Paintings
Mariano Fernandez Commercial Shit 90×60 cm Acrylic on IKEA picture, fluorescent
Read More »
Paintings
Mariano Fernandez La passion 88 x 44 cm Acrylic on canvas
Read More »
Paintings
Milena Lopez El mar y mis temores (The sea and my
Read More »
Paintings
Milena Lopez El Bosque (The woods) 80 x 60 cm Acrylic
Read More »