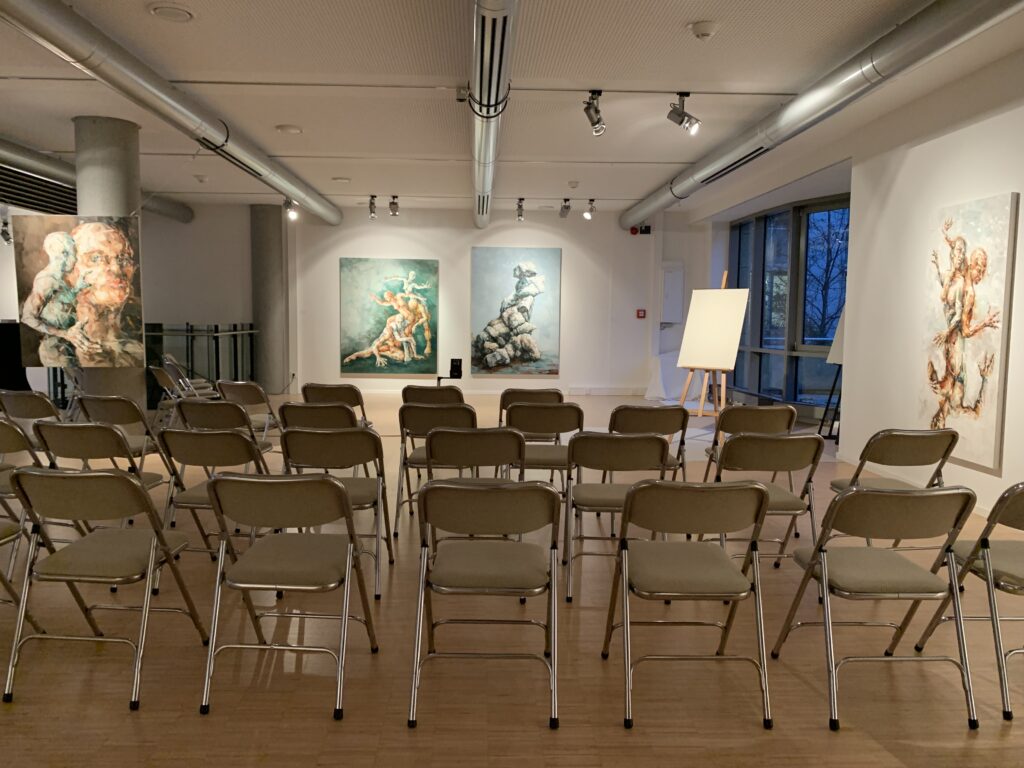 I am often asked by young collectors and visitors to my gallery, what my job as a gallerist actually entails. Inspired by these repetitive questions, I decided to run a series of articles and social media posts to build a better understanding of what we as gallerists do, and even more, how we help emerging artists kick off their careers.

Artists face numerous challenges when trying to establish themselves in the art world. From finding the right venue to showcase their work to getting their pieces seen by potential buyers, emerging artists have to navigate a complex landscape to gain recognition and build their careers. This is where gallerists come in – they play an essential role in promoting and supporting emerging artists.
A gallerist is responsible for selecting and exhibiting works of art, but their job extends beyond simply hanging art on walls. One of the most important roles of a gallerist is to help promote the artists they represent. This means introducing their work to potential buyers and collectors, creating buzz and excitement around their exhibitions, and building relationships with art institutions and other galleries.
When a gallerist takes on an emerging artist, they are making an investment in that artist's career. They often provide financial support to help artists create new work, cover exhibition costs, and develop their careers. They may also offer guidance and mentorship to help artists hone their craft and develop their own artistic voice. The latter is one of the most important issues where the gallerist-artist relationship and common trust but also a shared goal help emerging artists create their artistic identity.
Gallerists also play an important role in creating opportunities for emerging artists to showcase their work. They may organize solo or group exhibitions, participate in art fairs, and create online portfolios or catalogs. These platforms not only provide exposure for the artist but also help to establish their reputation in the art world. Moreover, gallerists can support artists in organizing shows in various institutions and other organizations.
One of the most significant benefits of working with a gallerist is the opportunity to build connections with other artists, curators, and collectors. Galleries often organize events and openings that bring together people from across the art world, creating opportunities for artists to network and build relationships. Such events are often financed fully by the galleries offering a platform for artists to hold art performances and connect with collectors during art talks, and similar.
Not to underestimate the public relations part of the job of a gallerist. They curate the shows, meaning they find a theme, select artworks and write academic texts that are later part of the press releases but also help collectors to connect to the artists and their work. Usually, it is they who cultivate the relationship with the press community to ensure a constant buzz around the shows they organize, which leads to further promotion of the artist.
This in turn leads to the wider publishing scope of service, which gallerists usually offer their long-standing resident artists.
In addition to promoting and supporting artists, gallerists also contribute to the wider art community. They play a role in shaping the contemporary art world by introducing new and emerging artists to the public and helping to establish their careers. They may also organize events and exhibitions that explore important social and cultural issues, providing a platform for artists to engage with the world around them.
In conclusion, the role of a gallerist in promoting and supporting emerging artists is critical to the success of the artist and the broader art world. By providing financial support, creating opportunities for exposure, and building relationships within the art community, gallerists play a vital role in helping artists establish themselves and contribute to the cultural landscape. Without their support and investment, many emerging artists would struggle to get their work seen and build successful careers.